Transforming innovation into world-class roofing solutions for decades
For over half a century, Siplast has been at the forefront of engineered commercial roofing systems technology. From partnering with Shell Chemical of Europe on the industry-changing development of SBS (styrene-butadiene-styrene) modified bitumen, to the development of innovative roof solutions to help you meet your environmental and sustainability goals, Siplast is with you every step of the way. We have consistently fused the best in technology and technique with a philosophy of close, creative partnership that allows us to understand your vision from the inside - and to help make it a reality.
* Elvaloy® is a registered trademark of DuPont™
** Siplast Guarantees do not provide coverage for algae or chemical exposure. Refer to guarantees for complete coverage and restrictions.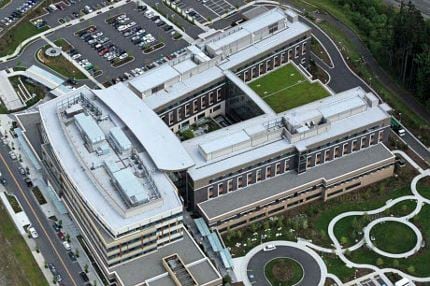 Spend time caring for the community you serve. Not your roof.
The last thing a hospital needs to be worried about is its roof. At Seattle's Swedish Hospital, Siplast helped provide peace of mind with a state-of-the-art roof system to protect the 200,000+ yearly patients and sensitive equipment of this world-class acute-care medical facility — allowing medical teams to concentrate on the most important thing: the health of their patients.
Additional Resources
Siplast systems are installed exclusively by Siplast Select Contractors

Siplast Roofing, Waterproofing, and Lightweight Insulating Concrete Systems are installed exclusively by Siplast Select Contractors. These independent roofing professionals are experienced in high quality installation methods using the latest Siplast technologies.*

See Contractor Resources

Video Library

Take a look around our selection of videos for an introduction to Siplast, overviews of our products, as well as educational and instructional videos on roofing technology, application techniques, roof maintenance, and installation best practices.

View All
* Contractors enrolled in Siplast certification programs are not employees or agents of Siplast, and Siplast does not control or otherwise supervise these independent businesses. Contractors may receive benefits from Siplast for participating in the program and offering Siplast enhanced warranties and guarantees, which require the use of Siplast products.