PVC Systems
Parasolo™ PVC KEE roof systems incorporate Elvaloy®* copolymer with formulation advancements to help with weathering, algae, and chemical resistance.** Parasolo's high performance single-ply option is well-suited for warehouses, office space, retail facilities, and low-traffic roofs.
* Elvaloy® is a registered trademark of DuPont™
** Siplast Guarantees do not provide coverage for algae or chemical exposure. Refer to guarantees for complete coverage and restrictions.
Meet Your Siplast Partners
At Siplast, we never stop working to be your trusted partner. Meet some of the people who will be with you every step of the way.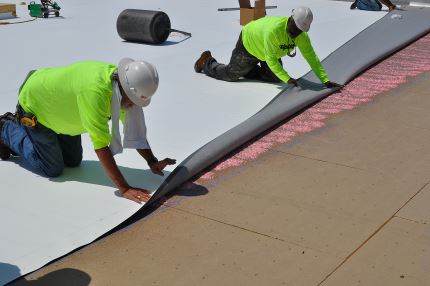 Recorded Webinar: PVC Installation — What Designers Need to Know
In this AIA & IIBEC-accredited presentation, find out what you as the building professional specifying and designing a PVC roof system need to know about PVC installation. Our experts walk you through how sheet layouts are influenced by structure, penetrations, detailing, and attachment considerations; as well as how to QA the installation.