Practical, durable waterproofing systems that don't compromise your project vision
Siplast believes that meeting the practical aims of your waterproofing project — whether it's a hard-wearing pedestrian walkway, a spacious plaza deck, or a roof that helps you meet your environmental goals — shouldn't mean any compromise on aesthetic appeal. That's why for decades, Siplast has applied our experience and innovative technological developments to waterproofing systems that deliver high-performance protection and look as good — and sometimes even better — than they did on the drawing board.
Pedestrian waterproofing solutions
Balconies, walkways, and terraces are distinctive design components, and they must be able to withstand foot traffic and abrasion, and weather and environmental damage. In addition, the waterproofing application must be safe and fast with a pleasing aesthetic appeal. The Terapro Waterproofing and Surfacing System was designed to overcome all these challenges.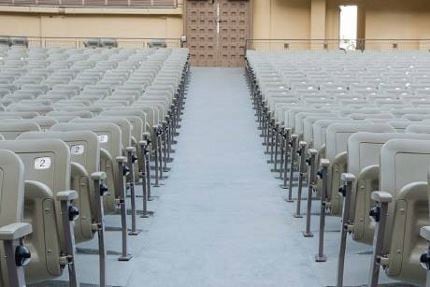 History and innovation meet in a Hollywood institution
Sometimes you need the new to come to the rescue of the old. The John Anson Ford Amphitheatre had seen better days — with decades of structural water corrosion damaging the interior and threatening the future of this beloved institution. That's where Siplast's Terapro Waterproofing System entered the scene and delivered a Hollywood ending!
Vehicular Traffic Waterproofing Solutions
Parking decks are faced with traffic wear, emissions, routine weather damage, and other environmental contaminants, presenting a unique combination of issues. Additionally, parking decks must be safe and attractive spaces for staff and customers. Siplast's Terapro VTS Waterproofing and Surfacing System can help you meet those challenges. Read more about vehicular traffic waterproofing solutions by clicking the button. 
Additional Resources
Guarantee Information

Siplast System Guarantees are the result of a comprehensive review process. This begins with the Siplast Technical Services Department verifying that your proposed assembly and product selection meet Siplast requirements. Once the assembly is approved, your materials are scheduled for delivery. When installation is complete, the Siplast Select Contractor arranges a final inspection by a Siplast Representative. Following a successful final inspection, your guarantee is issued.

Learn More

Resources for Design Professionals

Get your job done easier and faster using Siplast guide specs, details, spec plates, commercial product data sheets, white papers, opportunities for continuing education, and more.

See Design Professional Resources