Site Containment & Protection Solutions
Deliver safely and on-time with premium site protection
Site covering, containment, and weather protection are major responsibilities — and using inferior enclosure systems can prove costly and dangerous. To help you meet these obligations safely, Siplast's Monarflex site protection products have been setting the standard for high-performance low-density polyethylene sheeting, reinforcements, and attachment systems since the 1950s. Our trusted range of reinforced sheeting materials, attachments, and accessories means peace of mind that you are providing top-notch security for your jobsite — helping you deliver your project safely and on time.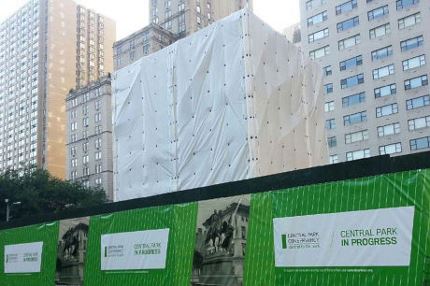 Safely restoring NYC's historic Sherman Monument
The Monarflex Containment System provided an effective protective shell, allowing the delicate work of restoring a historic NYC monument (that had deteriorated due to bird droppings and natural environmental contaminants) to be carried out efficiently and with appropriate care and attention.
Additional Resources
Siplast systems are installed exclusively by Siplast Select Contractors

Siplast Roofing, Waterproofing, and Lightweight Insulating Concrete Systems are installed exclusively by Siplast Select Contractors. These independent roofing professionals are experienced in high quality installation methods using the latest Siplast technologies.*

See Contractor Resources

Building Owners

Access the information most relevant to your needs, from product literature to technical documents and information on guarantees — as well as overviews of Siplast products, areas of expertise and past projects.

See Building Owner Resources