Global with plaza deck solutions
Innovations in 1970s Europe have now become global best practices as architects and planners recognize the deep benefits of amenity spaces that break up cityscape sprawl. Keeping pace with this movement since the beginning, Siplast's Research and Development used our SBS-modified bitumen technology to help create an innovative waterproofing membrane capable of meeting the rigorous demands of plaza deck applications. Today, Siplast continues to offer technologies engineered for plaza decks, including liquid-applied options, to continue supporting the worldwide push to improve the experience and impact of the built environment for decades to come.
SBS Modified-Bitumen
Revolutionary styrene-butadiene-styrene (SBS) modified bitumens were developed by Siplast in partnership with Shell Chemical of Europe in the late 1960s. This elastomeric blend of asphalt and SBS is highly durable and capable of exceptional elongation and recovery properties over a wide range of temperatures. This resilient blend provided the foundation for Teranap, Siplast's two-ply waterproofing system based on proven roof membrane design. With enhanced flexibility, elasticity, and puncture resistance, the Teranap Waterproofing System is engineered to meet the intense demands of plaza deck applications for years.
PMMA Liquid-Applied
The efficiency and performance features of PMMA benefit plaza deck applications as well as roof assemblies. Siplast Terapro is formulated to protect against the unique demands of exposed structural elements such as balconies, terraces, walkways, and parking decks -- and look great while doing it. Terapro Systems are available in many color and aggregate options to allow these highly visible spaces to function beautifully.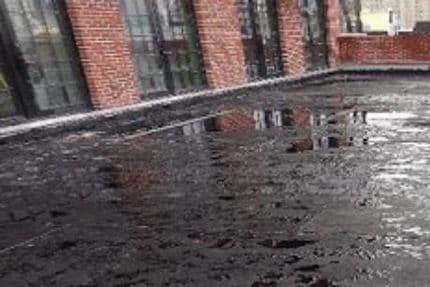 Hot-Applied Rubberized Asphalt
Hot-applied rubberized asphalt membranes are designed to provide seamless waterproofing for large surface areas. Siplast's PA-750 Hot-Applied Waterproofing System is comprised of PA-750 Hot-Applied Rubberized Asphalt and PA-750 Reinforcing Fabric and provides a fast-setting, fully bonded, monolithic membrane designed for waterproofing approved and properly prepared substrates for plaza deck, protected/ballasted, and other covered applications.
Did you know that Siplast helped . . . 
Additional Resources
Vehicular Traffic Waterproofing

Siplast's Terapro VTS waterproofing and surfacing systems can help you meet the unique combination of stresses facing parking structures. We bring our PMMA technology expertise to work with you to deliver efficient, reliable, and attractive solutions for even the most highly trafficked areas.

Learn More

Roofing to help you meet your environmental goals

Siplast was a pioneer in vegetated roofing in the 1970s, with its Teranap system. Since then, Siplast has been helping our partners serve their communities and meet their environmental goals with roof solutions that include all the components required for a successful vegetated application — from waterproofing to growing medium to plants. With both SBS-modified bitumen and liquid-applied waterproofing options, our vegetated roof assemblies can be specified to include landscape options from extensive (requiring minimal maintenance) to intensive (requiring more maintenance), depending on your project needs. As architects and planners design with an ever-closer eye on beneficial environmental and community impact, Siplast is here to help.

Learn More