Introducing the roof that speaks for itself
Siplast is pleased to offer RoofTag, RFID (radio frequency) Technology for Roof Asset Identification — a radio frequency mini hard-drive that's factory-embedded in Siplast SBS-modified bitumen membranes on request. With RoofTag, you can access your Certificate of Analysis data simply by scanning the installed roof membrane itself.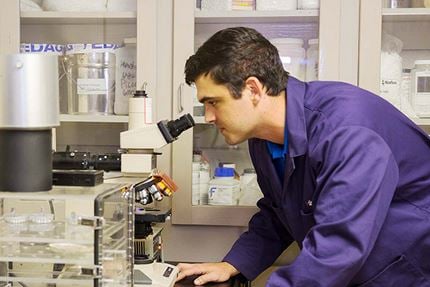 What does my Siplast Certificate of Analysis tell me?
The Siplast Certificate of Analysis documents the results of stringent quality control tests carried out on the specific lot of material delivered to your site. With RoofTag, it's factory-embedded in the rolls of material that comprise your system. RoofTag is Siplast's signature of quality – an assurance of our commitment to the long-term success of your project that's built right into your roof.
Siplast Fast Facts
Our story is one of uncompromising quality, innovation, partnership, and commitment to our customers and their communities.
Take a look at what has made that story possible.
Kicked off a roofing revolution with SBS-modified bitumens
Styrene-butadiene-styrene modified bitumens — the product of our 1960s research partnership with Shell Chemical of Europe — helped modern design professionals rise to new and visionary building challenges across the globe.
Why we're leaders in the lightweight insulating concrete industry
The first important thing to know about Siplast's Lightweight Insulating Concrete Systems is that they are reusable, helping make a positive environmental impact through waste reduction. The second is that we offer a complete roof system that combines the stability and thermal performance of lightweight insulating concrete with SBS-modified bitumen membranes -- ensuring the high performance you'd expect when quality products are designed and produced to work together.
Helped build the world's largest "living" roof with the Ford Motor Company
In 2004, The Guiness Book of Records recognized the 10.4-acre Ford Truck Plant vegetated roof as the world's biggest, helping realize the Ford company vision of balancing lean manufacturing with meeting its environmental goals.
Inviting our customers to learn and help innovate at the Siplast RISE Center
When we say we're with customers every step of the way, we really mean it: The Siplast RISE (Research, Innovate, Support, and Evolve) Center is an educational, collaborative environment where customers and consultants can come to learn about Siplast products from Siplast scientists themselves, and discuss challenges with them to help find exactly the right solutions you need. It's the place where the Siplast story of uncompromising quality begins.

Siplast Project Stories
From schools, manufacturing facilities, and hospitals to museums and convention centers, we partner with you every step of the way to make your project vision a reality. Read some of our standout stories here.
Learn More